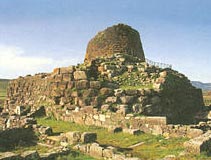 XV Archeotour - 1st International Archeotour
"Sardinia – Discovering a Great and Mysterious Civilisation".
Cagliari, 3 – 10 June 2023
Archeotour is an initiative of the Rotary Club Cagliari designed to show Rotarians that Sardinia is more than just a seaside holiday destination, and also to create and strengthen Rotarian friendship.
This whole activity is totally no-profit and any proceeds will be given (and have always been given in the past) entirely for the humanitarian service projects of our Club.

After fourteen previous editions, for the first time the Archeotour will reach out to an international audience in 2023, after the 2020 edition, which we had to cancel due to Covid19.
The extraordinary success of previous Archeotours, each characterized by a specific theme, has encouraged us to continue with the same approach. This year, the underlying theme will be Sardinia as an island that combines a crystalline sea with the relics of the many overlapping civilisations that have occupied the island since ancient times.

Sardinia is becoming more and more well-known, not only as a destination for seaside tourism, but also as a place that evokes a deep emotional response in more sophisticated and attentive travelers.

Our theme "Discovering a Great and Mysterious Civilisation" provides a kind of ideal bridge across time from Sardinia's ancient shores to the present day, giving us new perspectives and interpretations on the finds of the past in the light of new archaeological discoveries.

The tour aims to combine high-level cultural content with typical Sardinian gastronomic offerings, unique landscapes and opportunities to meet new people and to develop new friendships.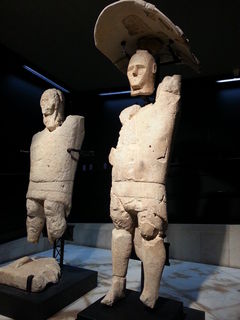 A focal point of the Archeotour are the Giants of Monte Prama, a series of monumental sculptures that are unique in the Mediterranean region and that have only recently become accessible as museum exhibits. Other features of the island's history are the caves of Is Zuddas, the Menhir, the Nuraghi, towers, Phoenician-Punic sites, Roman remains, Pisan towers, sixteenth-century walls, and much besides. All will combine to provide pleasant memories and a lasting impact on those who see them.
A final important aspect of the tour is its gastronomic element, where participants will experience the variety and specialties of the island's cuisine. We know that this culinary element will round the tour off, making participation even more interesting and enjoyable, as well as leading to the development of Rotarian friendships in a convivial setting.
The hotel in Cagliari will act as the base throughout the tour, thus avoiding the hassle of transferring luggage from place to place.
You will find the Archaeotour brochure
here
, with the complete program, as well as a
registration form
, in a fillable pdf format.
Take a look at
the video on International Archeotour