When were we founded
RC Cagliari was founded on November 23, 1949, by a group of distinguished professionals, entrepreneurs, and bank and administration managers.Gian Paolo Lang from Leghorn, the governor of the only Italian RD, and future President of Rotary International, was present.
Cagliari had been almost completely destroyed by Anglo-American bombers in February-May 1943 so as to simulate a possible landing of allied forces in the island, and the epos of its courageous reconstruction had just started.
The strong reaction of the ruling and popular classes contributed to the town's revival. No one believed it would have become the driving force of Sardinia.
Avv. Rafaele Sanna Randaccio, the first President, and the other founders of RC Cagliari combined their intellectual and professional energies, with a view to relaunching the economy and the values of the town.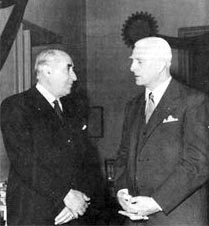 1949 - Rafaele Sanna Randaccio and the governor Gian Paolo Lang