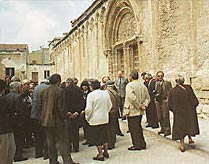 Archeotour was established in 1986, and it is now in its 14th edition. Up to now, some thousand rotarians from all over Italy have taken part, i.e. an average of nearly 100 participants per edition.
Archeotours aim at improving rotarian friendship, and especially at introducing rotarians to the beautiful coastal and inland landscapes of Sardinia, and its interesting pre-Nuragic, Nuragic, Phoenician, Punic, Roman, mediaeval vestiges, as well as its present vitality.
Restoration of the fourteenth-century Elephant Tower portal. In 1991 the Club contributed along with other organizations to the restoration of the tower's wooden and iron portal, the symbol of Cagliari, which has always inspired poets and writers.
The home hospital is an initiative that started some years ago, with the involvement of the health and political authorities and meetings to heighten public awareness. A project was developed by some members of the Club in favour of certain patient categories that could benefit from home care.
The garden of Saint Lucifer. In 1991 the Club called for ideas for renewing the park of via San Lucifero, which had for years lain abandoned and prey to vandals.
An executive project was drawn up by some rotarians and offered to the municipality, which last year put it out to tender for one billion lire.
On April 6 1999, the park, renamed "the Garden of Saint Lucifer", was open to the public and is now a lively meeting place.